At AVS we provide a complete first opinion and referral service for all bird species. 
We 'personally' provide 24 hour cover to our clients, so you can be guaranteed continuity of care for your bird.
We are committed to providing the highest standard of care to our patients and also to their owners.
We have longer than average appointments to allow time to listen to your concerns, thoroughly examine your bird and then discuss in detail what options are available.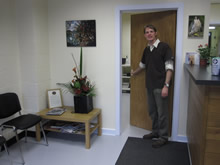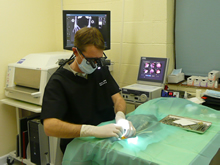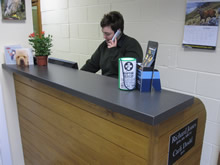 When sick, birds instinctively mask symptoms to avoid showing signs of weakness to potential predators. Early detection and disease prevention are therefore paramount. As such we recommend 'new bird' and annual health checks. These give us the opportunity to examine your bird fully, undertake any minor procedures (nail trimming, microchipping etc.) and discuss important aspects of husbandry, nutrition, behaviour and disease prevention. It also allows us to familiarise ourselves with each individual bird and their owners.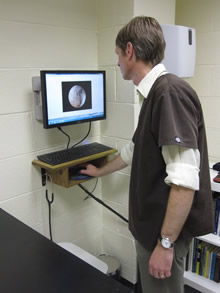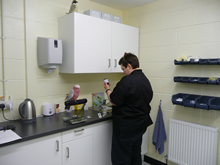 There are many factors one should consider BEFORE actually acquiring a bird. We therefore also offer a pre-purchase consultation designed to help clients 'match' the right species of bird with the specific home environment and prepare for its arrival. Despite the very best of care however, disease and injury do occur but at AVS we are fully equipped and qualified to deal with any such incidents as they arise.
---
Our facilities include:
Custom built hospitalisation and intensive care units. Each unit is individually ventilated, with separate wards for predatory and nonpredatory species.
Digital radiography ensures rapid production of high definition x-rays thus minimizing anaesthesia time for our patients. It also allows us to enhance/enlarge areas of particular interest, which is especially useful when dealing with some of our smallest patients! These images can be shared with owners and stored on each patient's computerized record for future reference. It is also more environmentally friendly as there is no need for processing chemicals.
A state of the art endoscopy unit allows us to directly examine and if necessary biopsy internal structures leading to prompt diagnosis. These images can be digitally captured and again shared and stored. With the owner's permission, such images can also be used for teaching and transmission via the Internet to colleagues for consultation.
The very latest in avian anaesthesia and surgical equipment including: mechanical ventilators, capnograpy, water circulating heating blankets, radiosurgery and avian orthopaedic / microsurgery instrumentation.
Laboratory samples that are not run in house are couriered to a local veterinary diagnostic lab specializing in exotic species. In most cases this ensures 'same day' results, so critical in the avian patient.
We strongly recommend pet insurance to offer peace of mind for those unexpected incidents, and we would be more than happy to discuss this with you in detail.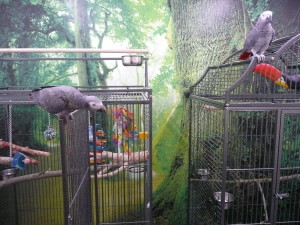 Parrot Boarding: A luxury boarding facility, equipped with king sized cages, natural apple branch perches with nutrition and background sound/music tailored to the individual bird.
We also offer the peace of mind of having round the clock care by fully qualified and experienced veterinary staff with all boarding birds.
---
Microchipping
Microchipping is an effective means of identifying an individual bird that is extremely difficult for the bird or a person to modify or damage. This is a simple procedure involving a 'microchip' the size of a grain of rice inserted under the skin of your bird. This gives you the reassurance that if your bird is lost and found it can be scanned, identified and quickly returned.
---
Faecal Sampling
Faecal sampling identifies any worms or eggs your bird may be carrying. Left untreated this could lead to complications. Simply collect a sample from your bird in the pot we will provide you and post it back to us. We will telephone you on the day we receive it with the results.
---
Feather Repair
Damaged wing and tail feathers can impair flight and lead to trauma of adjacent plumage. Imping, (illustrated here) is a technique developed by falconers to repair damaged feathers. A previously moulted feather is cut to size and glued in place using a carved wooden peg.