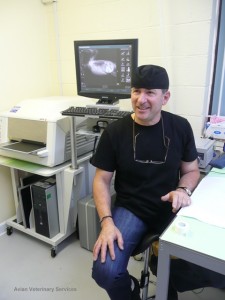 In December, AVS welcomed friends and colleagues Dr Larry Nemetz and Donna Garrou from the world renowned 'The BIRD Clinic' in California.
Larry is the world's leading psittacine soft tissue surgeon and via numerous seminars and practical sessions we were trained in the very latest anaesthesia and micro surgical techniques.
Although in regular contact for case discussions (which in this digital age is greatly enhanced by being able to instantly send and receive x rays and endoscopy images)  having a few days face to face (granted some of it was in the pub!!) to exchange ideas and knowledge was fantastic and we all learned an incredible amount.
Such ongoing training is essential in the rapidly progressing discipline of avian medicine and invaluable to allow us to continue to provide the very best in healthcare for our patients here at AVS.
We would once again like to thank Larry and Donna for their time and very much look forward to their next visit!
AVS teams up with world renowned bird clinic, California