A pair of kestrels had a lucky escape last month when they were both grounded after getting covered from head to toe in mud on a landfill site.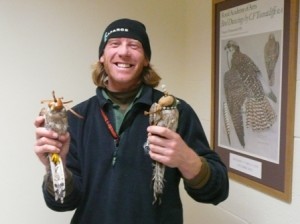 Falconer Dan came across one of the muddy falcons in a ditch and when he tried to catch it, as it was clearly in trouble, it 'ran' rather than flew away leading him right to the second bird!
We have no idea how the birds had got into such a state, we can only presume they decided to bathe in a particularly muddy puddle or ended up stuck in a ditch whilst hunting for voles.
With temperatures close to freezing and having lost the insulation of their feathers, without Dan's 'good Samaritan' actions, these birds would most certainly have perished overnight and so he gathered up both birds, warmed them up in his van and brought them over 100 miles out of his way to AVS.
On physical examination, apart from being caked in mud, there were no obvious injuries and after some fluid therapy, a bath and blow dry both looked almost as good as new.
Dan then transported them to Stapeley Grange Wildlife Hospital in Nantwich where they could convalesce, build up their strength and regain their flight capabilities in specially designed rehabilitation aviaries.
A few days later both birds were given a clean bill of health and Dan was delighted to take them back to where they came from. After wishing them luck and a few words advising them to stay out of the mud in future away they went as good as new………Good work Dan!!
Falconer Saves Grounded Kestrels