Henrietta, a 4 year old pet chook is back to her normal feisty self after undergoing surgery to remove a particularly unpleasant tumour from her tail.
W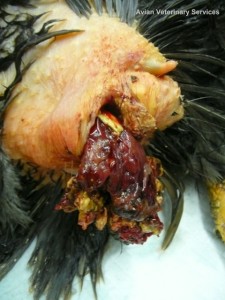 hen she presented to AVS with a large, rapidly growing and now bleeding mass, we feared the worst, especially as it seemed to have significant attachment to the tissues underneath.  We were concerned it involved the bone of the 'pelvis' which would make the prognosis for recovery extremely poor.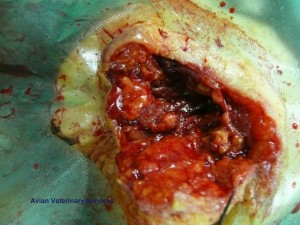 After a lengthy discussion with her owner, we elected to undergo exploratory surgery with a view to putting her to sleep under anaesthesia if the mass was invasive and we couldn't offer her a really good chance of long term recovery and quality of life.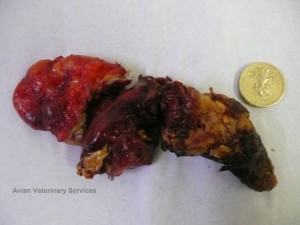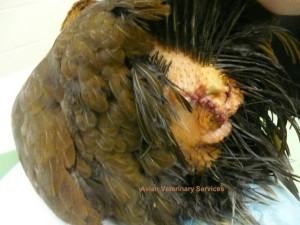 Thankfully, after well over an hour of careful dissection using radiosurgery (which is essentially an electric scalpel that cuts tissue but seals blood vessels at the same time) we were able to remove what turned out to be a well encapsulated tumour of a tail feather follicle.
Her recovery was uneventful with surprisingly little bruising after creating such a big hole. Although the original plan was to keep her in for a few days to convalesce, we had to send her home after 24 hours as she was making numerous 'chicken run' style attempts at escaping her hospital pod and giving her neighbours in the ward a head ache with her nonstop chicken chat!
Stitches were removed after 10 days, the wound had healed beautifully and apart from a few tail feathers missing you would hardly know she had ever had a problem. Her delighted owner recently sent us this picture of her causing havoc back home!!
– note the bemused expression on the cat's face!