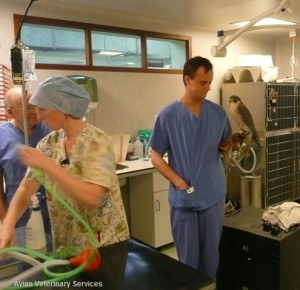 This month the AVS team travelled to Herefordshire to assist in a sight saving operation in a beautiful female peregrine falcon.
Due to progression of cataracts in both eyes, this 8 year old peregrine was now sadly completely blind and as a result no longer able to negotiate her aviary and find food.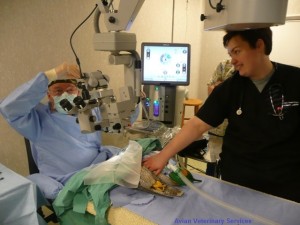 Her quality of life had clearly deteriorated to a point where the owners were facing a difficult decision, with the only realistic options being euthanasia on humane grounds or surgery in the hope that sight, in at least one eye, could be restored.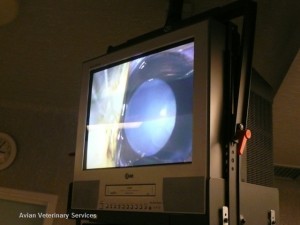 Cataract removal is an extremely intricate and specialized procedure so following preliminary evaluation and blood-work at AVS she was referred to veterinary ophthalmologist Paul Evans MA, VetMB, CertVOphthal, MRCVS at the Eye Veterinary Clinic in Leominster.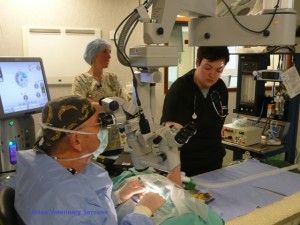 Paul performs this procedure routinely in cats, dogs and horses and to date he has also successfully removed cataracts in a small number of parrots and birds of prey, providing a dedicated avian team come in to manage the patients' anaesthesia. This is where we came in; so armed with our portable anaesthetic and monitoring equipment off we headed down the A49.
While Paul and his team organized the impressive operating theatre, which was actually more like the bridge of the starship enterprise than a veterinary clinic, Carli and Richard set about getting the falcon asleep, placing an intravenous catheter and getting some fluids and medication on board.
The procedure, undertaken using an operating microscope and 'phacoemulsification' unit, to put it extremely simply, involves inserting a tiny probe into the lens via a minuscule incision in the cornea, which using high frequency vibrations breaks up and sucks out the cataract!
It was fascinating to observe Paul's amazing handiwork, magnified on a screen in theatre, which is just as well as most of it was literally invisible to the naked eye!
The procedure and anaesthesia in Carli's skilful hands (and very serious face), went extremely well and the patient was soon up, awake and very angry!!
I spoke to owner, falconer and veterinary surgeon Karl this week and he reports she is already clearly visual and getting round her aviary again so a very big thank you to Paul and all the team at Eye Vet.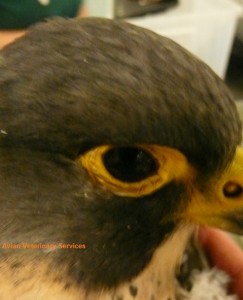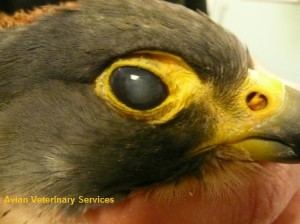 AVS assist in restoring sight to Peregrine Falcon