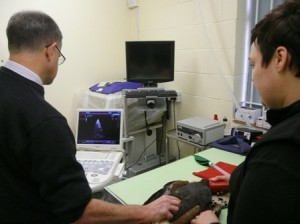 To ensure we continue to offer the very best in avian healthcare, AVS has teamed up with veterinary cardiologist Mike Holgate BVetMed Cert VC MRCVS.
With well over 10 years of experience in this field, Mike has been providing mobile cardiology referral services to veterinary practices throughout the North West and Midlands. To date he has been mainly working with dogs, cats and rabbits but is very keen to further our knowledge on heart disease in birds.
With avian cardiology still pretty much in its infancy and unfortunately at this point lagging behind other disciplines such as surgery, internal medicine and ophthalmology, we are excited to try and improve this area for our patients.
Investigations have traditionally been hindered by, in part the small scale and incredibly fast heart rates of birds (budgies for example have a heart rate of over 500 beats per minute!!) and also the fact that the bird unique 'air sac system' has the annoying habit of interfering with the ultrasound sound waves that make echocardiography or heart scanning possible.
Following some preliminary work using a variety of approaches and protocols on racing pigeons, my own peregrine and some clients very obliging parrots (A big thank you to Mango and Eric!!), with Mike's state of the art equipment, in his very experienced hands and with Carli's expert restraint we were able to get some very satisfying and diagnostic images and heart measurements.
We were also able to evaluate blood flow through the heart using a technique called colour flow doppler where blood appears as a different colour depending on which way it is flowing. This is extremely useful when checking for leaking valves or holes in the heart for example.
We are hoping that combining AVS's and Mike Holgate's expertise in our own fields, we will be able to contribute to the development of this area of avian medicine and in so doing provide the very best care available for our patients.
AVS to offer state of the art avian cardiology service