See excerpts from a review by Helen McDonald (Samuel Johnson prize winning author of 'H' is for hawk) originally printed in the Journal of the British Falconers Club 2014 p. 129-131
The Mirror of Falconry by Pierre Harmont and The Falconry of Francois de Saincte Aulaire
Translated by John Loft (ISBN 0953588121)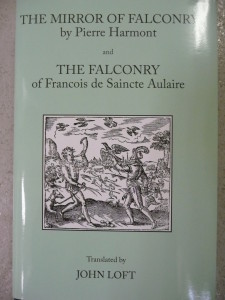 "This exquisite volume is a translation of two seventeenth century French works on Falconry first published in 1634 and 1619. Both were dedicated to the Grand Falconer of France, the Duc de Luynes, and both are astonishingly rare. In 1888 Souhart described the latter as 'one of the most precious works on falconry', today occasional copies are offered for around £50,000. We are indebted to Patrick Paillat, who supplied digital images of the text for translation and to John Loft's scholarship and dedication in bringing Harmont and Saincte Aulaire within our reach. As we know from his magisterial D'Arcussia's falconry (2003), John is an exceptionally gifted translator, a master of that mysterious art in which the aim is to be invisible, for the test of a good translation is that one forgets it is a translation at all. You'll not encounter a single awkward sentence in this book- testament to both the clarity of the originals and to John's genius. The detailed notes that accompany and clarify the texts are deeply informed and full of the translator's delightfully self-effacing humour. They are as superb as the translation itself.
The works themselves are ordered according to familiar conventions: following dedications to their patron, there are instructions on how to recognize and choose different kinds of hawks, chapters on training, conditioning and entering, on conducting various flights at quarry, information on moulting and reclaiming hawks. 
Modern readers often skip the chapters on illness and injury, considering them outdated and irrelevant, but you should read these: Saincte Aulaire's in particular is extraordinary, and an appendix by the veterinary surgeon, Richard Jones suggests that many of these remedies had therapeutic value. There are truly astonishing things here – Saincte Aulaire explains how one should operate on a hawk with an impacted stomach by making an incision from the bottom of her keel to her fundament, finding the stomach, cutting it open 'just as a cook will open the gizzard of a fowl', and removing the offending material before sewing up the various incisions with scarlet silk and anointing them with balm of chicken fat. He apparently treated several hawks successfully this way. The mind boggles.
These are practical books, written to advise the young falconer in every imaginable way………… I cannot recommend this book too highly. Like John's previous works, this is a true classic and a priceless addition to the falconer's bookshelves."
AVS contributes to translation of 17th century Falconry treatise