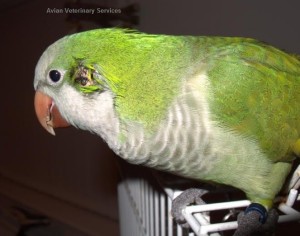 A Quaker parakeet now named Charlie has had quite a traumatic few weeks. Firstly, he was found seemingly abandoned before Christmas, in a field in North Wales with 2 other parrots, but kindly rescued by a member of the public and taken in by the RSPCA who assumed he would be quickly reunited with his owners. Incredibly, despite the RSPCA's best efforts, no owners came forward or could be traced. Also, presumably during his time out 'in the wild', he also acquired a nasty injury and infection to his left ear, possibly as a result of a predator attack.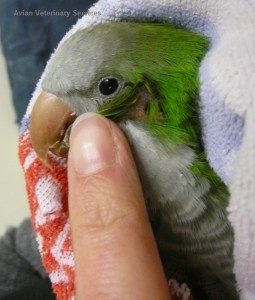 Birds' ears are not as obvious as their mammalian counterparts and are well hidden by protective feathers. Although infections are relatively rare in birds they can be potentially serious if the ear drum is ruptured and infection spreads to the balance centres. The ear is also very closely associated with the joints that allow such dexterity in the parrot's beak so any pain/swelling can very quickly affect their ability to eat and climb.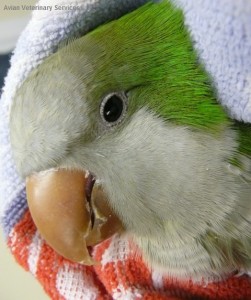 Thankfully Charlie found a new owner who, concerned about the scab and swelling on the side of his head, got him to AVS for treatment. On examination it became apparent the left ear was completely occluded with an abscess, which when carefully dissected free was harbouring a large volume of pus that was starting to cause swelling of the surrounding sinuses. A gentle flushing, some antibiotics and painkillers improved things dramatically and following a week of therapy and gentle bathing by his new owner Charlie is back to his normal, very entertaining self and very much enjoying his new home!