In April Richard travelled to Paris for the International Conference for Avian, Reptile and Exotic Mammal medicine (ICARE).  He attended as both a delegate to keep up to date with the very latest developments in the field of avian medicine and a lecturer, presenting a paper titled 'The surgical management of an ovarian sex cord stromal tumour in a Northern Goshawk'.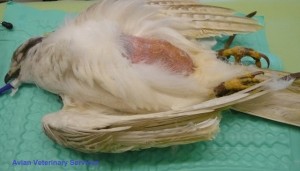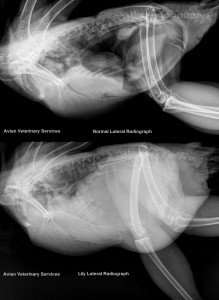 The paper described the diagnosis and surgical removal of an ovarian tumour in a Siberian Goshawk.
'Lily' who presented to AVS in 2013 with a massively swollen abdomen underwent emergency surgery to remove almost 1/3 of her body weight in fluid and ovarian tumour tissue.  Not only did she do extremely well during and following surgery but despite the tumour and surgical intervention,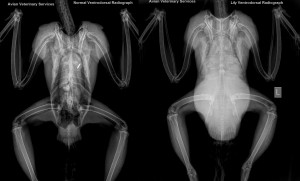 incredibly she has gone on to lay eggs every year since!
What follows (if you have a strong stomach!) are some images of the surgery which involved isolating and removing the tumour using radiosurgery (essentially an electric scalpel which both cuts and seals small blood vessels at the same time) and titanium 'haemoclips' which were used to clamp off the larger vessels and base of the mass prior to removal.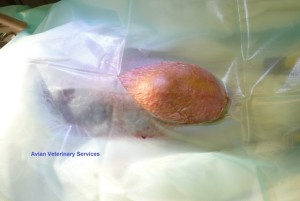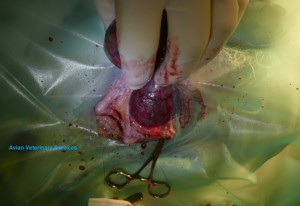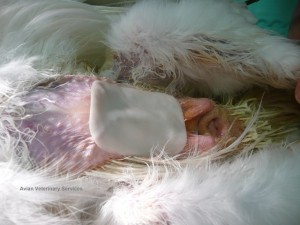 The final picture is of Lily last month who is in great shape but from the look on her face, in true Goshawk fashion, is still trying to decide whether to mate with or indeed murder her owner!!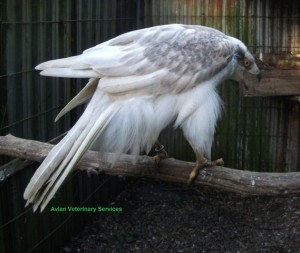 AVS represented at International Veterinary Conference